Easy online accounting software
With QuickBooks Online accounting software in your small business, you'll get more done wherever the day takes you.
Time-saving features you'll love
Seamless, integrated payroll - free with QuickBooks Online

Run payroll for free for an unlimited number of employees. You never have to open another piece of software or sign in with a different password.

Learn more about free payroll in QuickBooks >

Fast and easy setup, customised for you

It takes only minutes to get started and everything is automatically customised for your specific type of business.

See what's important right away


Elegantly designed dashboards and feeds instantly show you the health of your business and your next action steps. That's the beauty of the new QuickBooks homepage.

Invoices that make a great statement

Now you can create custom invoices in minutes. Add your company logo, choose your own font, and add a background image and custom fields.

Get paid fast

Accept credit and debit cards in QuickBooks or on the go. Send invoices by email, then check the real-time status of invoices — from customer opening to paying.

Track your sales and expenses

QuickBooks Online maintains an up-to-date view of all your sales, full details of any expenses and a clear view of your profit. You always know how you're doing.

Sync your bank data automatically

QuickBooks automatically pulls in data from your bank (all major UK banks), saving time and reducing data entry errors. It learns from your behaviour to automatically classify transactions.

Reports are just one step away

Instantly view your VAT liability and get all the information you need to complete your VAT return, every quarter. You can also use instant reports like your P&L and balance sheet to see where you stand.

Collaborate with your accountant

Invite your accountant or bookkeeper to securely access your QuickBooks data and collaborate at the same time on documents, anywhere, across all devices.4
Favourite features voted by US QuickBooks Online customers:
Time saved by businesses:
See what else you can do with QuickBooks Online.
Choose a plan to fit your business.
You can upgrade or cancel at any time.
QuickBooks Online
Simple Start
- or -
For key accounting tasks:
Create estimates and invoices

Monitor sales and expenses

Connect to your online banking

Works on PC, Mac and mobile

FREE payroll - unlimited employees

6
Learn more
Discount not available after free trial
QuickBooks Online
Essentials
- or -
Faster business bookkeeping:
Get all Simple Start features


View your Company Snapshot

Manage supplier bills

Handle foreign currencies

FREE payroll - unlimited employees

6
Learn more
Discount not available after free trial
- or -
Full financial management:
Get all Essentials features

Prepare budgets

Create purchase orders

Manage stock levels

FREE payroll - unlimited employees

6
Learn more
Discount not available after free trial
Unlimited support
QuickBooks Online includes unlimited freephone and online chat support. If you need help then we're here.5
Get paid fast
You can accept credit and debit cards within QuickBooks and on mobile devices. Just sign up free for Intuit Pay.

When you start using QuickBooks accounting software, your first 30 days are free3. There's no need to supply a card number to sign up.
See what our customers say
about QuickBooks Online
Quick,sleek and intuitive

by

EMILIO L COROIANU

|

"I have been using this online app for over a year now , and it has been fantastic. It has saved me a lot of time and increased my business revenue - my estimates/quotes look sleek and professional and are accepted by clients within the same business day. My favourite part of this app is creating an estimate on the mobile app and sending it to the client before the client has even had the time to leave the office, venue or conference room."

Easy quick setup, cheap compared to other packages

by

ABLEID

|

"Been using Quickbooks for a couple of months now. I have used several other types of market leading software, I required a software system that would reduce errors and speed up processing of orders. QBO seems to be 80-90% of what I required. Apart from a couple of small issues it suits our company perfectly. We will certainly be sticking with it for the next few months along side our old systems while we test it out, up to now looks to be a winner."

"I love the simplicity and clarity, looks great and really works well. Saves time and gives me the tools to manage the business effectively-would highly recommend having previously used Sage."

easiest accounting, invoicing system on the market

by

LITTLE LILLIES

|

"all accounting software out her is quite difficult for anyone who is not computer literate.. however anyone using Macs it is even worse.. intuit quickbooks but more importantly intuit quick books on line for mac users is the perfect software anyone can use .. I'm still not using mine to its fullest capability but there still is nothing on the market close to it.."

Brilliant

by

EIGHTY EIGHT STORE

|

"As a new startup, the simplicity of Quickbooks has made it easy for me to get a grip of my finances and accounts. A top product at a low price."

The interface for Essentials onlne

by

CROUCH END MEDIA LTD

|

"I checked out all online accounts options as I am not an account but I am an interface designer for web. Quickbooks was the most refreshing, usable and had the 'feel good' factor which the others did not. I chose it for three reasons: aesthetices, ease of use and functiality above the rest after extensive reviews."

Easy to use

by

CHRIS ELLUL

|

"After using Sage (offline) for several years I found QuickBooks to be a bit like going from night to day. It is a lot easier to use and, of course, allows me to access it from anywhere including mobile devices in emergencies. One of the best things about QuickBooks for me is the ability to change invoices, irrespective of whether they are paid or not."

A real business saver…

by

KEITH NICOLSON

|

"I can only speak for my own personal findings, but the new QuickBooks, in a period of approximately three months, has proved itself to be a most unbelievable contribution to improving the efficiency of my small established business!"

Great on a desktop but the mobile version and app need a lot of work !!

by

TONY FARRER

|

"The desktop version is great. Unfortunately as I am mobile a lot of the time the mobile version really does let quickbooks down, Basic functions like raising a purchase order whilst on the move, product details (purchase price etc) and reports need to be considered. I am on a 12 month deal at present but when it goes up to nearly £30.00 per month I will have to reconsider if I cannot raise purchase orders etc on mobile."

User friendly

by

DECONSTRUCTED THERAPY LTD

|

"Very happy with Quickbooks - so easy to use especially downloading bank transactions, reconciling and even printing P60 with one click! Would highly recommend."

Brilliant so far

by

DESIGNERS

|

"Think its great to be able to instantaneously update my accounts and add invoice in a matter of second wherever I am in the country. App is brilliant."

Clear to read and use

by

OPEN CLASP THEATRE COMPANY

|

"QBO is easy to pick up and makes use of the full screen so text and numbers are clearly legible. The transition from desktop to online was very smooth and I find it easy to run day to day reports - very clear and easy to customise. It would be better if there was a user guide for beginners as the help option relies on you knowing the terminology. Customisation of forms (invoices etc) could be more flexible and templates fitting UK paper sizes would make life easier."

Feature packed accounting solution

by

JENS KREBS LTD

|

"I started using Quickbooks online about eight weeks ago and my business finances have never been in a better shape. The software is easy to use, comes with all features needed (and some extra) and doesn't kill me costwise either."

Quick Books works for me

by

STOVE SERVE LTD

|

"I think QuickBooks is great, I tested other packages before I decided on QB as a complete novice I felt it was more user friendly. The backup of the help desk has got me out of many a fix. I have recently moved over to the new version and I am still trying to get my head around it, at the moment I still prefer the old style but I am sure that will change the more I use it. I am also looking to use Paysuite within QB to carry out our very small payroll and hope this will be as good as QB."

Very user friendly

by

JEANETTE COULDRY

|

"I've been very pleased with Quickbooks. It's very easy to navigate your way around, so user friendly. It does everything that I need it to do - invoicing, reporting, reconcilliations etc, in a very straightforward manner."
System requirements
Internet connection required (high-speed connection recommended)
Internet Explorer 10, Firefox, Chrome, Safari 6
QuickBooks Online mobile app works with iPhone, iPad, and Android phones and tablets
QuickBooks Online is accessible on mobile browsers on iOS, Android, and BlackBerry mobile devices
Not all features are available on mobile devices
Important pricing terms, offer details and disclosures
*Receive a 20% discount off the current monthly price for QuickBooks Online Simple Start, 30% discount off the current monthly price for QuickBooks Online Essentials or 40% discount off the current monthly price for QuickBooks Online Plus for the first 12 months of service, starting from date of enrolment, followed by the then current monthly price. Your account will automatically be charged on a monthly basis until you cancel. You must select the Buy Now option and will not receive a 30-day trial. Offer valid for new QuickBooks Online customers only. No limit on the number of subscriptions ordered. You can cancel at any time by calling 0808 168 9533. Discount cannot be combined with any other QuickBooks Online offers, such as the Movemybooks service. Terms, conditions, features, pricing, service and support are subject to change without notice.
Based on number of paying QuickBooks Online companies worldwide - May 2013.
All prices shown exclude VAT
First thirty (30) days of subscription to QuickBooks Online, starting from the date of enrolment, are free. To continue using QuickBooks Online after your 30-day trial, you'll be asked to present a valid credit card for authorisation, and you'll be charged the then current fee for the service(s) you've selected. You can cancel at anytime by calling 0808 168 9533. Offer(s) are valid for new QuickBooks Online customers only. Available for a limited time. Offer cannot be combined with any other QuickBooks Online offers. Terms, conditions, features, pricing, service and support are subject to change without notice.
Your PC, Mac or mobile device must meet the minimum system requirements. Mobile experience optimised for iOS and Android devices. BlackBerry devices not supported.
Telephone support available 8am — 8pm working days. Online chat support available 9am — 5.30pm working days. We aim to reply to online 'submit a question' requests the next working day.
Payroll is free until 31 July 2015. Thereafter it will be £1 per active employee, per month (plus VAT). Terms, conditions, pricing, features, service and support are subject to change without notice. Payroll functionality will be available to all customers with an active trial or subscription to the new QuickBooks Online.
PaySuite service is provided by PaySuite Limited, a company registered in England and Wales whose registered office is William Hunter House, 20 Western Road, Brentwood, Essex, CM14 4SR with company number 08158774. PaySuite is an independent third party selected by Intuit as provider of the payroll service, You will be required to accept PaySuite terms and conditions when registering for the payroll service.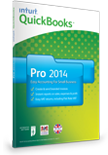 Looking for QuickBooks Desktop?
See our desktop accounting software or upgrade your copy to QuickBooks 2014.