Advanced payroll and business tools
Run your payroll in three easy steps with our HMRC-recognised payroll software
Comprehensive accounting tools and RTI payroll
Faster, easier in-house payroll — in just three easy steps
You don't need any previous payroll experience to use this payroll software.
Be 100% RTI-compliant — submit Real Time PAYE data to HMRC
File payroll returns and submit Real Time PAYE (RTI) data to HMRC online.
Run accurate payroll, every time — automatic tax table updates
QuickBooks automatically downloads tax tables to keep calculations accurate.
Pay up to 99 employees at no extra cost  — no hidden charges
The monthly charge lets you run payroll for up to 99 people, as often as you like.
Payroll and accounting software in one: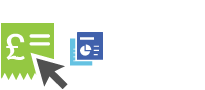 Plan ahead and anticipate trends by forecasting sales and expenses. See how different scenarios might affect you.
Easily record the time you and your staff spend on projects, then automatically invoice customers for that time.
Set prices for specific customers or jobs, change prices easily and offer deals to match or beat competitors.
See what else you can do with QuickBooks Premier + Payroll software
See All Features
Straightforward pricing
Just choose how many people will use it.
If you are not satisfied with QuickBooks for any reason, return it any time during the first 60 days for a full refund.3
System requirements
Core requirements:

Windows® Vista (SP1 inc 64-bit), 7 (inc 64-bit), 8 (inc 64-bit)
Internet Explorer 7, 8, 9, 10 (must be 10 on Windows 8)
At least 2.0 GHz processor, 2.4 GHz recommended
1 GB of RAM — 2 GB recommended for multiple users
2.5 GB free disk space (additional space required for data files)
60 MB for Microsoft® .NET 4.0 Runtime (provided with software)
1024x768 screen resolution, 16-bit colour
4x CD-ROM drive, if installing from CD
All online features/services require internet access
High speed internet access recommended
Product must be registered online
Integration with other software:

MS Word and Excel integration requires Word and Excel 2007 or 2010.
Synchronisation with Outlook Contacts requires QuickBooks Contact Sync for Outlook 2003, 2007 and 2010, available free online.
Email estimates, invoices and other forms with Windows Outlook, Outlook Express and Mozilla Thunderbird, as well as webmail services such as Gmail, Yahoo Mail, and Hotmail.

Multi-user access works with these operating systems:
Windows 8 (with user account control on)
Windows 7 (with user account control on)
Windows Vista (SP1, with user account control on)
Windows Server 2003 (SP2)
Windows Server 2008 and 2012
Small Business Server 2008 and 2011
Important pricing terms, offer details and disclosures
GFK RT UK Accounting Software data for retail desktop units March 12 — April 13.
All prices shown exclude VAT.
QuickBooks support is included for 30 consecutive days from first-time registration. First-time registration must be completed within 90 days of purchase. UK only, see terms and conditions.
If you are not fully satisfied, return the product to Intuit within 60 days with a dated receipt for a full refund of your purchase price, excluding postage and packing.
First user is included; requires purchase of a licence for each additional user, up to 5 licences for QuickBooks Pro and up to 5 licences for QuickBooks Premier. All users must be on the same year version of QuickBooks.
Terms, conditions, pricing, features, service and support are subject to change without notice.